Why customers like Dynalift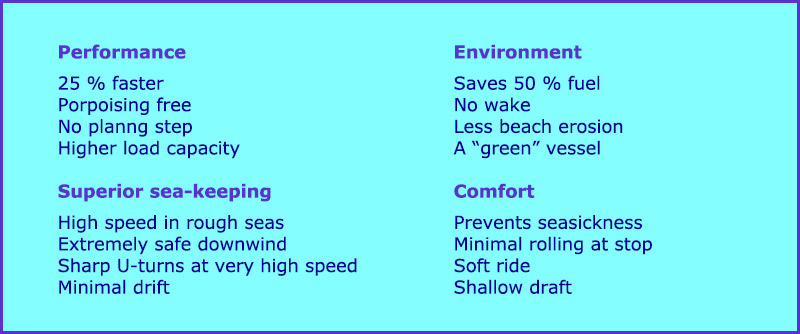 The Dynalift C-38 catamaran hull, 11.66 x 5.00 m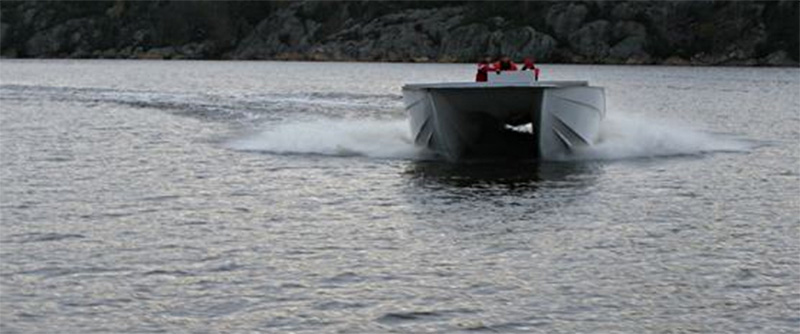 The Dynalift C-38 catamaran hull, test run by the SSRS, 7 tons, 46 knots, 2 x 350 hp, note the negligible wake.
The Dynalift concept
The Dynalift hull is a stepped-hull based on the hydroplane principle that creates 25% less drag compared to a conventional hull. The hull is completely porpoising-free at all speeds and has no planing step.
This same concept is used on all boat models from Dynalift powerboats corp, and works on all sizes of planing powerboats, both catamarans and mono hulls, up to 25 meters.
Hull concept is well suited for boats exposed to strong winds and rough seas. Therefore we generally target those who work at sea.
The Dynalift hull builds a higher planing pressure, which means the boat planes earlier, has a higher loading capacity and is more easily propelled. The wetted areas decrease in size as the boat's speed increases and the boat generates less drag. This makes the boat easily propelled, which reduces fuel consumption and provides about double the range of action with the same amount of fuel. The top speed will be increased by 25 percent and you can save as much as 50 percent on fuel.
The hull creates minimal wake. As a result of high planing pressure, the wake is remarkably decreased. This creates less impact on the environment by reducing beach erosion. The risk of accidents caused by backwash is also lowered.
Tests run, amongst others, by: SSRS, Chalmers, Mercury, Yamaha, the powerboat magazines: Vi båtägare and Motorboat & Yachting
The tests have proven the Dynalift-hull to be superior in terms of performance, low fuel consumption and sea-keeping. With the superior sea-keeping of the Dynalift hull, you get safe and secure eco-friendly boats tailored to specific client needs.
SSRS requested a 8.5 ton boat with the speed requirement "35 knots, always", even in storm conditions. Tests with a C-38 prototype in full scale were run in wind speeds of 25 to 35 meters per second. The Dynalift C-38 met the requirements by a wide margin.

Dynalift works on all sizes of planing boats, to the left C-38's (11.66 x 4.95m) and to the right a GoCat (4.00 x 1.70 m)
Environmental awareness has grown strong on the sea. Eco-friendly, fuel-efficient and safe are now watchwords for most when buying a boat. Potential customers ask for individual solutions concerning superstructures and decks. Generally the requests are:
A fast boat for transportation distances, good sea-keeping, smooth ride and no drift.
A stable work platform with a large surface, tailored to specific needs.
Fuel efficient and negligible swell, "no wake".
With its significant ability to save fuel and generate minimal swell, Dynalift is probably the best concept to this day when it comes to Eco-friendly boats.